EVENTS
Helping Hands has been involved in many fundraising events. Following is a list of our current and past events:
PAST EVENTS
The Bartender's Delight Raffle Draw was held on Sunday, August 13th. Thanks to all who supported us!
The Fine Wine Raffle Draw was held on October 15, 2016. Thanks to all who bought raffle tickets. A special Thank You to The Winehouse for their support! Please now support them when purchasing your wine and extras! They are located at 110 – 1600 Kenaston Boulevard just north of Costco in Kenaston Commons.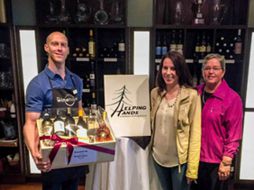 The Rumor's Comedy Club fundraisers held on February 20, 2015 and April 21, 2016 were huge successes! Thanks to all who supported us! A special thank you to 4imprint for providing the free prizes for the 2016 event.
The Fall Fashion Show held at Nygard on Kenaston Boulevard in September 2015 was a huge success! Thanks to all who bought tickets to support this fundraiser and to MCs Beau and Heather of BOB 99.9FM. Our 12 models looked amazing in Nygard attire. Congratulations to the silent auction winners and the winner of the Nygard Unlock The New You Key Contest.


The winner of our WestJet ticket raffle draw for the Gift of Flight -- a Trip for 2 Anywhere WestJet flies (on regularly scheduled flights) is Erin White. Thanks to everyone who bought raffle tickets and we wish Erin all the best for a wonderful holiday!



Helping Hands President Val Poole presenting WestJet travel voucher to winner Erin White and her husband Dan.
Thank you to all who participated in the Yin Yoga fundraiser on June 10, 2012 and to Yoga Centre Winnipeg for the kind donation of their space for this event.
We held Pink for Prescriptions on July 19 and 20, 2011 and at the Rocky Mountain Soap Company Winnipeg Women's Run on August 21, 2011. Thank you for showing your support for Helping Hands by booking your appointment for a pink hair extension. For more information, please visit the Pink for Prescriptions page.
Our fourth annual DANCIN' FOR DOLLAR$ event was held in March 2010.
A raffle sponsored by VIA Rail was held in March 2010.
"Al-a-ka-Blues", a night of magic, comedy and blues, was held in October 2009.
THIRD PARTY FUNDRAISERS
September 17 - 23, 2012 - MLCC chose us as one of the 2012 charities for their "Donate-A-Dollar" fundraiser. Thank you for your overwhelming support!
During the month of June 2012, as Part of their Community Connection "Fun" Raiser program, Salisbury House donated 20% of all the Monday and Thursday food bills that were attached to their letter.
In April, May and June, 2012, Helping Hooves organized many events including a Tack Sale and Flea Market, with proceeds from all donated to us.
An Amateur Burlesque Show Fundraiser was held on December 11, 2011.
The third annual Rocky Mountain Soap Company Winnipeg Women's Run was held on Sunday, August 21, 2011. T-shirts were sold with all proceeds going to Helping Hands.
The second annual Rocky Mountain Soap Company Winnipeg Women's Run was held in August 2010.
Manitoba Prairie Quilters organized Quilt Reflections in 2008.