ROCKY MOUNTAIN SOAP COMPANY WOMEN'S RUN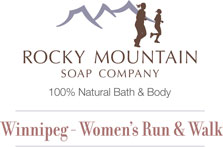 Rocky Mountain Soap Company, Canada's leader in 100% natural bath and body products, selected Helping Hands as their charity for the 2nd annual Rocky Mountain Soap Company Women's Run, held on August 28, 2010. On hand were walkers and runners who entered in the 5 km or 10 km course to support Helping Hands.
For more information on the event, please read our press release, see the promotional poster, as well as visiting rmswomensrun.com.
After the run, Rocky Mountain Soap Company provided a reception for all the participants and volunteers who gave their time and effort to make the event a resounding success.
Our thanks to Rocky Mountain Soap Company for supporting Helping Hands for Manitobans with Breast Cancer!