IN THE NEWS
Helping Hands for Manitobans with Breast Cancer Inc. was profiled in the pages of the Winnipeg Free Press in January 2011.
Hands helped her keep home
Bills piled up during battle with breast cancer
By: Kevin Rollason
Posted: 01/29/2011 1:00 AM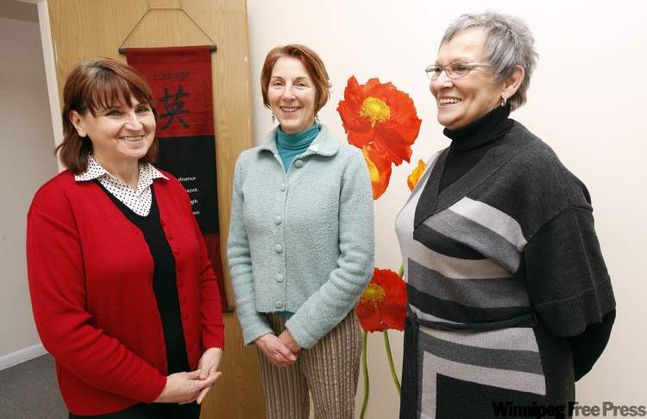 Breast cancer survivor Martha Adair (left) with Helping Hands for Manitobans with Breast Cancer members Sharon Phillips (right), owner of the Bra Bar, and founding member Candace Propp (centre).
Martha Adair was already battling for her life against breast cancer -- the last thing she wanted was to win the battle but lose her home with bills mounting up.
How you can help
If you want to help Helping Hands for Manitobans with Breast Cancer, you can send a cheque or money order to the organization at P.O. Box 35008, 963 Henderson Hwy., Winnipeg, MB, R2K 2M0. You can also donate online through Canada Helps at www.canadahelps.org. Or, instead of money, you can donate your time and join them by writing to the above address or emailing at helpinghands4mbwbc@mts.net.
Thankfully, there were helping hands to come to her aid.
Actually, it was Helping Hands for Manitobans with Breast Cancer Inc.
The Landmark-area resident credits the six-year-old charity with helping her and her husband keep on their financial feet during her year-and-a-half battle with breast cancer starting in December 2007.
"I couldn't work," Adair said.
"We cleared out our savings. I was paying an average of $2,000 for drugs not covered (by pharmacare) per month. These were the darkest days when the bills were hurting us.
"We might have lost our house if Helping Hands didn't help us."
Helping Hands helps women and men who are facing financial problems during their breast cancer treatment and recovery.
Candace Propp, the organization's president, said it tries to step in to help individuals who need help paying for things not covered by insurance, social assistance or non-insured health coverage.
"People are modest about what they're asking for," Propp said.
"They're asking for basic things so they don't have to use food dollars. Fighting cancer is really hard on single women and single mothers... we've heard people have lost their homes while fighting breast cancer."
There are several ways Helping Hands can help people, including uninsured medical or treatment costs, transportation to and from appointments, hospital or doctor's office parking, a wig (limit of $250), lymphedema garments, and support care services.
Helping Hands will not help people with the cost of rent, loans, utilities or food or with optional items like scarves or prosthesis bathing suits.
Anyone who needs help has to be referred by a medical counsellor or licensed social worker.
Because the organization is run totally by volunteers, all of the money raised goes to help people.
Starting in 2005, Helping Hands helped one person with a few hundred dollars; the year after it helped three people with $2,700, then four people with $9,000 the next year.
By 2010, the organization was helping 20 people with more than $20,000 in total.
Sharon Phillips, owner of the Bra Bar and the organization's current vice-president, came up with the idea for the charity and founded it with three other women, including Propp.
"We saw the need at my business," Phillips said. "We saw so many women going through breast cancer and couldn't afford it. We all think we have medical coverage, but there is a lot that's not covered by the system."
Phillips said what surprises her the most is how the need for the charity grows each year.
"We kept thinking someday the system will catch up, but it hasn't," she said. "And more and more people are finding out about us."
Phillips said the organization holds an annual Dance for Dollars, but it is hoping somewhere out there is a company or group of individuals that can raise funds for them by running an event.
Propp said each year about 800 Manitobans are diagnosed with breast cancer and 80 to 100 of those end up on social assistance.
"We're helping about 20 people," she said.
"We're still not reaching everybody that we need to... and we'd like to open it up for all cancers, but we don't have the money now."
The first woman Helping Hands assisted, 45-year-old Myla (who asked that her last name not be used), lost her employment during her breast cancer fight, which included several rounds of chemotherapy and radiation.
Myla, a single mother with two children, said the organization helped her buy a special compression sleeve to wrap around her arm to reduce the swelling from the lymphedema she has as a result of her breast cancer fight.
"They cost about $200 and they helped me pay for it," she said, adding they also helped her with some bills.
"It was pretty tough at the time -- I even had to go to the food bank.
"It's phenomenal what Helping Hands does for people like us."
Adair, who is still dealing with some of the effects of her breast cancer battle, said when it is behind her she wants to return the favour and volunteer for Helping Hands.
"I really want to contribute to them," she said.
"My hat is off for Helping Hands. When I got the first cheque from them I thought I was dreaming."
"They are kind and they came through for us."
"I know how much their help is appreciated."
kevin.rollason@freepress.mb.ca
Republished from the Winnipeg Free Press print edition January 29, 2011 A23